Protect Your Car In a Hurricane!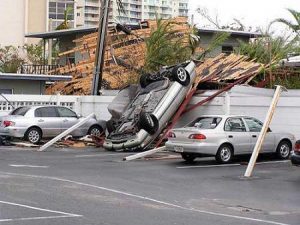 Protect your car in Tampa and all of Florida, we all reside in a hurricane-prone area.  And, it's not just home insurance to be concerned with.  A car can suffer significant damage in the event of a hurricane.  Here are a few important tips to protect your vehicle in the event of a hurricane:
Take Pictures – Taking pictures of your car is very useful to a claims adjuster in the event of damage from a hurricane. The photographs can also be very useful to you, the insured, in the event of a storm.  It allows both parties to see the condition of the vehicle before the storm and therefore, what the actual damage of the vehicle is due to the storm.
Store Important Items – Keep a copy of your car's registration and insurance documentation in a safe place like a zip-lock plastic bag, in a safe, or even somewhere other than your home. Make additional copies of these documents and distribute them to all drivers in your household.  In the unfortunate event that you are separated from your car or your family, you'll always have this documentation.  It is also important to take a picture with your phone of these items.  You may get separated from your car, but most of us keep our phones with us.
Fill Your Tank – Before a hurricane hits, make sure to fuel up your car. In an emergency, gas supplies may be limited or long lines can form.  Make sure you are able to get where you need to be.
Park Safely – It is always recommended to park the vehicle in a garage if possible. But, if unable to do so, park your car close to a building, which can offer partial protection from high winds.  Avoid parking under trees or power lines that can be blown down.
Check Your Car – Once the storm has passed and it is safe to do so, check your vehicle to evaluate its condition. If damage exists, take pictures and compare the before and after photographs.  Remember, in the immediate aftermath of a storm, driver only if necessary, avoid flooded road and washed-out bridges, and watch for fallen objects, downed power lines, and weakened roads.
Enduring a hurricane can be difficult.  But, with some planning ahead, you'll have the peace of mind to know you are protected.  If you are looking for a comprehensive review of your auto insurance in Tampa or all of Florida, give Omega Insurance Agency a call.  Our licensed and professional staff are here to help with any questions.  Call Today!  813-341-1530 or 888-663-5088