What is a Wind Mitigation Inspection?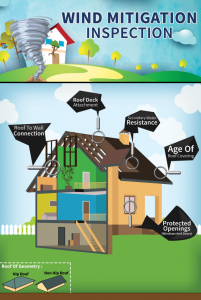 If you have purchased home insurance lately in Tampa or anywhere in Florida, you'll often hear the term wind mitigation inspection thrown around.  So, what's this inspection all about and why should I get one?  Simply put, a wind mitigation inspection is an inspection that looks at various wind resistive features of your home, puts them on paper, and provides the insurance company with documentation which, if applicable, can provide you with significant savings on your home insurance premiums.
Can anyone perform a wind mitigation inspection?
No.  In order to receive any premium credits, the inspection must be completed by a licensed inspector who is certified to perform such inspections.
What features does the inspection look at?
The wind mitigation inspection takes a look at several wind resistive features of your home.  These features include:
Building Code – Was the structure built in compliance with the Florida Building Code (2001 or later) or for homes located in what is known as the HVHZ (High Velocity Hurricane Zones), South Florida Building Code, 1994 (Miami-Dade or Broward County only).
Roof Covering – What is the actual roof covering of your home, such as shingle, tile, metal, built up roofing material, membrane type material, etc. And, what is the permit date of the roof.
Roof Deck Attachment – The question on the forms asks for the weakest form of roof deck attachment. The roof deck is the wood portion located under the roof covering.  The question on the form is seeking to know what the weakest point is on this roof decking and what the nail pattern is of how it is connected.
Roof to Wall Attachment – This question is asking for the weakest roof to wall connection. There are varying ways roofs can be connected to the wall of the house.  These include toe nails, clips, wraps, or other structural ways such as with anchor bolts connected or a reinforced concrete roof.
Roof Geometry – The form asks for the roof geometry. There are three general types of roofs: Hip Roofs, Flat Roofs, or Other Roofs.  Generally speaking, Hip Roofs provide the most protection in wind-driven events and therefore, offer the most savings on insurance premiums compared to other types of roofs.
Secondary Water Resistance (SWR) – This is asking whether your roof has a water-resistant underlayment to act as a secondary barrier to water entry.
Opening Protection – This is where we see the most confusion regarding the wind mitigation inspection. In order to quality for this credit, the wind mitigation inspection must be complete.  And, have shutters installed on all windows does not automatically qualify one for credit on the insurance premiums.  In order to quality, all openings, including doors, windows, skylights, etc., must be protected by approved shutters.  There are several different types of approved shutters but the inspector on-site must be able to verify.  Therefore, never peel off any of the stickers on your shutters and make sure to keep your documentation of your purchase and provide that information to the inspector.
If you have any questions regarding wind mitigation inspections, please don't hesitate to contact the Omega Insurance Agency.  We are here to help answer your insurance related questions.
Omega Insurance Agency is a full-service independent insurance agency based in Tampa and serving all of Florida offering auto insurance, home insurance, flood insurance, business insurance, and most other types of insurance products
Contact us today at 813-341-1530 or Toll Free at 888-663-5088